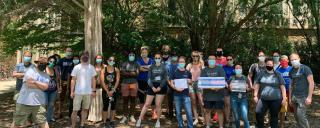 Department of Cell Biology Equity, Diversity, and Inclusion Committee
The Cell Biology Department celebrates equity and diversity and strives to maintain an atmosphere of inclusion for everyone. We welcome multiple approaches and points of view which provide a bridge to excellence in education and research. We are committed to supporting all members of our Department regardless of ethnicity, race, gender identity, or sexual orientation. Duke University has been named one of the "Best Employers for Diversity" in 2020, the second consecutive year. Duke placed 8 out of 500 companies in the annual ranking, which Forbes released on January 21. Duke ranked first for companies headquartered in North Carolina and in the education industry.
Our Equity, Diversity & Inclusion Committee serves our Department and partners with:
Duke Office for Institutional Equity
The Office of Equity, Diversity, and Inclusion
Multicultural Resource Center
Office of Biomedical Graduate Education (OBGE)
Center for Sexual and Gender Diversity
Duke School of Medicine Dean Klotman podcast – Episode 1: "Why Diversity is Important in Academic Medicine"
Duke's Commitment to Diversity and Inclusion
Gender Neutral Bathrooms on Campus
 
Cell Biology Department Equity, Diversity & Inclusion Committee members:
Pia Rodriguez Salazar, Co-Chair
Jennifer Carbrey, Co-Chair
Ryan Baumert
Laura Childers
Crystal Colon-Ortiz
Yarui Diao
Sharyn Endow
Oluwadamilola Lawal
Mark Langan
Samuel Reisman
Ashley Rich
Lucio Schiapparelli
Concerns or questions can be directed to Scott Soderling, Chair of Cell Biology; Michel Bagnat, Director of Graduate Studies; or Blanche Capel, Departmental Mediator.