Email list
Join the cellbiopostdoc@duke.edu listserv to stay up to date on all events and seminars. Contact mark.langan@duke.edu to make sure that you are added to the list.
Postdoc Slack channel
We have created a Slack channel exclusively for postdocs in the department. Slack is a workplace messenger app that makes it easy for postdocs to stay in touch, share information and resources, and ask questions to the community. To join, please email one of the members of the Organizing Committee and request an invite.
The Cell Bio Postdoc Club Organizing Committee 2023-2024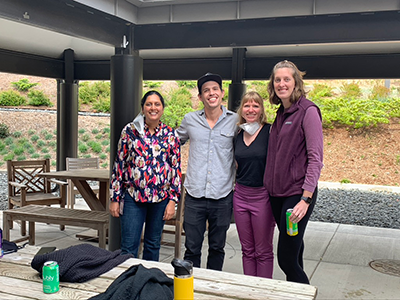 Sushant Bangru (sushant.bangru@duke.edu)
Susanna Brantley (susanna.brantley@duke.edu) 
Veronica Farmer (veronica.farmer@duke.edu)
Talia Hatkevich (talia.hatkevich@duke.edu) 
Madeline Keenen (madeline.keenen@duke.edu)
Boris Tezak (boris.tezak@duke.edu)
Administrative Contacts
Scott Soderling: Chair
Heather Adams: Business Manager 
Suzette Billings: Administrative Assistant to the Chair, department events
Jamarcus Squire: Hiring, human resources, benefits, Duke Card
Jackie Soderling: Business administrator, travel reimbursements, P card receipts
Cristy McGranahan: Grants and contracts (pre award) (All grants must go through Cristy!)
Nancy Bishop: Grants (post-award) manager
Mark Langan: IT support, email lists, department servers