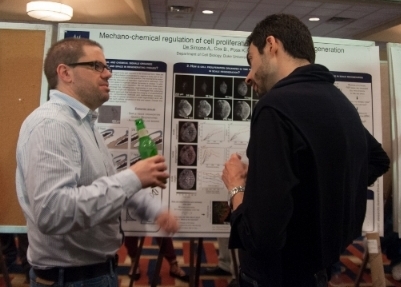 The laboratories of the Department of Cell Biology mentor many of the brightest postdoctoral researchers from around the world.  Postdocs in our laboratories help drive the cutting edge research of the department while also being mentored in preparation for starting their own independent careers. 
Postdoctoral fellows are usually funded by their mentor.  However, many are also successful in obtaining their own funding from foundations and the National Institutes for Health.  Several of our senior postdoctoral fellows have obtained their own K99 Pathway to Independence Award with specific advice on grant writting and preparation from their mentors.  There is a very active Duke University Postdoctoral Association and Office of Postdoctoral Services.  These provide seminars and workshops on opportunities in academic and non-academic careers.

Duke University is an Affirmative Action/Equal Opportunity Employer committed to providing employment opportunity without regard to an individual's age, color, disability, genetic information, gender, gender identity, national origin, race, religion, sexual orientation, or veteran status.
---
Postdoctoral Research Fellow Position Available in the Snyder Lab:
A Postdoctoral Research Fellow position is available in the Snyder Lab in the Center for Applied Therapeutics (Department of Surgery). Our team uses interdisciplinary imaging and genetic approaches to study the cell fitness mechanisms underlying tumorigenesis. This fellow will work on an exciting NCI-funded project to discover small molecules for pharmacologically controlling stem and cancer stem cell fitness. If interested, please send a CV and cover letter to joshua.snyder@duke.edu.
Postdoctoral Position Available in the Lechler Lab:
Our lab studies the principles of morphogenesis; major projects in the lab include the regulation and mechanism of asymmetric cell divisions and control of cytoskeleton organization by cell adhesion structures. We seek highly motivated colleagues with interests in cell, developmental and stem cell biology. A PhD and a proven track record in experimental research are required. Experience with mice, cell culture, and/or time-lapse imaging are a plus. Interested candidates should email their CV and a statement of past research accomplishments and interests along with the names/contact information for three references to: lechler@cellbio.duke.edu